Ande La Monica, creative director of Ande + Partners, is interviewed about the branding, identity development, and product packaging of FEED Granola.
Proclaimed "A branding and identity expert" by Donny Deutsch and considerered a significant force behind bringing the brand of FEED Granola to market and making them stand out.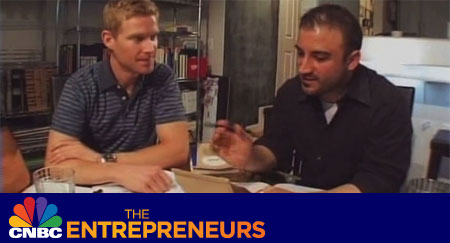 Ande smiles and humbly responds, "Picasso and Einstein were experts... I'm just very good at my job." He continued, "The show was a great success. It told the story of how FEED got started and also expressed how important having a smart brand is for a company starting out."
Hosted by Donny Deutsch, The Entrepreneurs profiles the talent behind this growing company. CNBC interviews Jason Osborn and Jason Wright (founders), Ande La Monica (creative director), and Brentt Church (operations) about how they turned Feed Granola into a hot brand and a household name in less than two years. Jason and Jason started in their West Village apartment and are now a national brand with shelf space in Whole Food stores, several nods as Rachael Ray's "Snack of the Day", and a vote by Inc.com as one of America's Coolest Young Entrepreneurs.